Kids at a Very Early Age Are Embracing Mobile as a Whole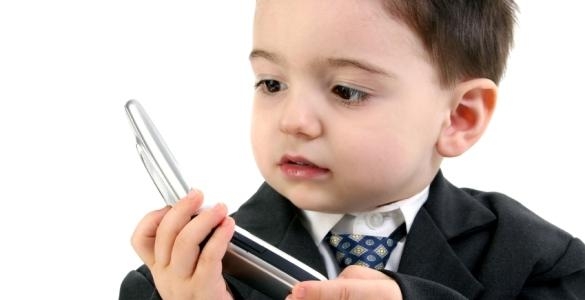 You'll get about 236,000 results when you look up the word "lullabye" on YouTube as well as other streaming websites. A new study suggests the reason behind this phenomenon: Children are being put to sleep using mobile in about one in four parents— oftentimes their very young children — to doze off.
On Monday, the study appeared in the journal Pediatrics, discovers "almost universal exposure," early adoption, and use of mobile devices among young children. The findings could tell whether the long-studied "digital divide" between low-income and middle-class families even exists anymore and upend our understanding on how very young children now consume media and this is possible if further research is upheld.
In 2013 Common Sense Media found that families with children ages 8 and younger, ownership of tablet devices such as iPads was 40% however, this new findings are a bit higher. It learned that access to some type of "smart" mobile device at home is what 75% of children had.
289 parents of 350 children coming from urban, low-income, minority community answered a 20-question survey in the Pediatrics study. The study found out that TV ownership is nearly undisputed at 97% as with the past research. 77% of parents surveyed said they had a smartphone which leads to the discovery that smartphone ownership in these households is relatively high.
Matilde Irigoyen who is the chair of the Department of Pediatric and Adolescent Medicine at Einstein Medical Center in Philadelphia said that the findings "was amazing," and probably worth another study of its own. One of the lead researchers on the study, Irigoyen, recalled one mother who would hand her mobile phone to their child only when the battery is about 20%.
She said, "In the clinic, in the practice, we're seeing every mother, every father, every adult come in, and they pull out their cellphones." Irigoyen and her colleagues also found out that parents of even very young children use mobile devices to entertain their children. However, she found absolutely zero reference when went searching for scientific literature about the phenomenon. Hence, exploring more about this subject matter is what she urged her residents.
Over the past few years, thinking on children and screens has been evolving. The American Academy of Pediatrics (AAP) earlier this year, modified its recommendations for parents, saying devices such as smartphones and tablets could be educational, even for toddlers when under the hands of a capable individual as he/she reads or plays along to guide the kids and learn from the experience. AAP said, "Passive video presentations do not lead to language learning in infants and young toddlers. The more media engender live interactions, the more educational value they may hold."